Full Arch Replacement
When all teeth are missing – or have reached a condition that they need to be replaced – a fixed bridge anchored to Dental Implants can be a good permanent solution to replace a full arch of teeth. Bonded to your jaw bone and supporting the tooth crowns above, Dental Implants act like real tooth roots, thus allowing us to anchor the bridge directly to your jaw.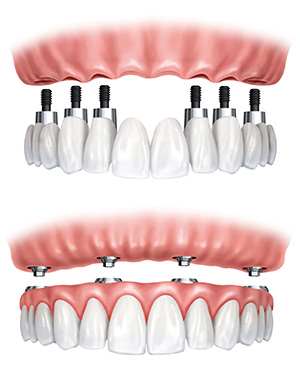 Once the Dental Implants are placed, your South Calgary Periodontist will use a full bridge to replace all of your teeth, which will provide you with a durable and long-term solution for complete teeth replacement.
Before Dental Implants, there was no other fixed solution available to people who had lost all their teeth except a full set of removable dentures. Today it is now possible to replace a full jaw of teeth using Dental Implants and a fixed dental bridge. This technique can now provide you with a permanent, stable and a highly esthetic alternative to removable dentures.
What Are The Benefits of Full Arch Dental Implants?
They let you eat and function just like having natural teeth
They provide a solid, stable solution that will serve you for life
They preserve your facial appearance and prevent further bone loss
What is the Procedure for Full Arch Dental Implants?
There are several options available for your treatment. Your South Calgary Periodontist will work with you to determine the best treatment option for your specific condition. A normal case usually follows this process:
Prior to the procedure, your periodontist will determine what needs to be done and prepare you for the upcoming procedure.
The next step is to install the Dental Implants to replace the lost tooth roots. We will attach temporary teeth to the Dental Implants to help you eat and function normally while your permanent bridge is being fabricated.
Once your permanent bridge has been fabricated, we will then securely install the bridge onto your implants. This may take several visits to complete.
The end result is that you should have new teeth that are hard to tell from natural teeth.
At the end of the procedure, you will have a completely new smile that should last you a lifetime!
---
At South Calgary Periodontal Group, we are always welcoming new patients.
Call us at (403) 278-5446 to book your Dental Implant consultation appointment today!