Single Tooth Dental Implant Replacement
Dental Implants are an excellent option for replacing individual teeth as they look, feel and function much like your own natural teeth!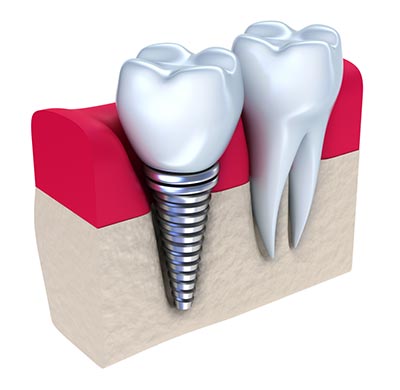 When Are Dental Implants Used?
At South Calgary Periodontal, we use single-tooth dental implants when people are missing one or more teeth. The Dental Implant is surgically placed in an opening in your jawbone. After the implant 'integrates' or attaches (also called 'osseointegration') to your bone, it acts as a new root for the crown that will then replace your missing tooth. A Dental Crown (also known as a 'cap'), which is made to look like a natural tooth, is attached to the implant and fills the space left in the mouth by your missing tooth.
It is very important that for this procedure to work, there must be enough existing healthy bone available in your jaw. That bone has to be strong enough to hold and support the dental implant. If there is not enough bone, it may need to be added with a procedure called 'bone augmentation' (or bone grafting). In addition, the supporting tissues that surround the teeth in the vicinity of where the dental implant is to be placed must also be in good health.
How Do Dental Implants Work?
A Dental Implant consists of several parts.
The first part is the implant itself. Dental Implants are made of titanium and are placed in the upper or lower jawbone.
The second part is the 'abutment'. The abutment connects the implant to the crown. Abutments can be made of titanium, gold or porcelain and is attached to the implant with a screw.
The third part is the 'dental restoration' itself. A dental restoration, otherwise known as a 'crown', can be made of many different kinds of materials such as porcelain or porcelain fused to a metal alloy ('PFM').
What Can I Expect From My Dental Implant?
Single-tooth Dental Implants will work and look like your own natural teeth. However, for some patients, it may be difficult to make the implant look exactly like your existing natural teeth. Depending on your existing oral health and the condition of your gums and bone structure, your implant may not be able to be placed straight. In this case, the Dental Implant would have to be inserted on an angle relative to the healthy bone. The available healthy bone structure always dictates the placement of the Dental Implant. Occasionally, this results in the Dental Implant not corresponding exactly with the desired point in the mouth in order to have it securely and successfully placed.
The good news is that studies so far have shown that Dental Implants can last as long as 25 years.
---
At South Calgary Periodontal Group, we are always welcoming new patients.
Call us at (403) 278-5446 to book your Dental Implant consultation appointment today!